May 12, 2023
All About Celina's Next Big Park: Wilson Creek Park
The city of Celina is known for its vibrant downtown square, celebrated festivals and fabulous parks designed for the whole family. At Mustang Lakes, we are excited to watch Celina's next great park develop: Wilson Creek Park!
Celina is now in the final stages of developing a master plan for this 100-acre park, located 12 minutes north of Mustang Lakes at the intersection of Roseland Parkway and Sunset Boulevard.
Wilson Creek Park
This past spring, the Celina Parks & Recreation Department condensed two initial concepts for Wilson Creek Park. The preliminary master plan includes:
Multi-use sports fields for soccer, football and cricket
Lighted courts for pickleball (8), tennis (2), basketball (2 full size and 2 half-court) and wall ball
Diamond sports ballfields including batting cages, stadium seating and covered dugouts
9-hole disc golf
Cross country trail loops
Event area with an amphitheater, terraced seating and areas for picnic tables or vendors
A neighborhood park featuring a destination playground, splash pad & sprayground, nature play, a signature pavilion, event lawn and a dog park
Miles of trails including natural surface (decomposed granite), paved and a transmission corridor trail
Creek Corridor with natural areas, wildflowers, native plants, picnicking areas and more
Additional amenities including shaded seating, restrooms, public art and a future fire station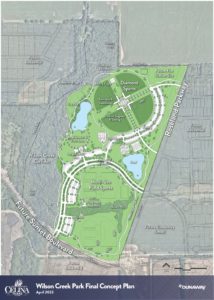 When Will the Park Be Built?
Master planning is scheduled to take place throughout the spring with a final master plan presented to the city council during a June meeting that will be open to the public.
The city council is scheduled to vote on the master plan in July, according to the Celina Record. From there, we should learn more about the construction timeline for Wilson Creek Park.
Live Near the Action
Joining Celina's beloved parks including Founders Station Park and Old Celina Park, Wilson Creek Park is sure to be the area's next big destination for outdoor fun. Mustang Lakes' key location near Celina, Prosper and McKinney makes it easy for homeowners to get out and explore all of the fabulous area amenities that this growing area is known for.
Mustang Lakes developer Cambridge Communities has also opened a new Celina community located adjacent to Wilson Creek Park: The Parks at Wilson Creek.
We can't wait to watch the master plan take shape this summer! If you're ready to move to one of the hottest areas in the Metroplex, Mustang Lakes invites you to explore our Celina master-planned community. Featuring nationally-recognized amenities and DFW's top homebuilders, Mustang Lakes offers the perfect retreat for homebuyers in every phase of life.
Head to our Information Center to learn more about Mustang Lakes living at 2682 Roseland Parkway, Celina, TX 75009 or call (972) 993-6737.